Texture coating is a process of creating, designing, and applying decorative patterns on your rendered wall. It is a useful way of enhancing the walls of your property and implementing the design you require. Texture coating comes in a variety of different styles, finishes, textures, colours and effects.
Texture Coatings Services In Sydney
With high expectations for fashionable and attractive properties, texture coating services is on the top of the list when it comes to adding value to your Sydney property. Everyone needs to make their building strong and attractive enough in order to achieve pleasing looks.
The Finishing Touch Rendering team have a wealth of product knowledge and will be able to assist you in identifying the wall coating solution that best suits the scope of your project. We will advise and help you decide on different styles, finishes, textures, colours and different effects that will combine seamlessly with your property and landscape.
Whether it's a new house or a renovation of an existing one, our texture coating Sydney finishes offer a long-term solution at reasonable prices. These non-toxic and easy to maintain coating systems give a vibrant look and feel to the walls.
Not sure which finish to choose? The qualified team at Finishing Touch Rendering is on hand to talk you through the options and show you examples or previous projects to help inform your choice.
---
What Is Texture Coating?
Texture coating is a process of creating, designing, and applying decorative patterns on your rendered wall. It is a useful way of enhancing the walls of your property and implementing the design you require.
Texture coating allows you to adjust the look of your walls, as it comes in a variety of different styles, finishes, textures, colours and effects. It can be used to cover up poor quality walls and also can be used for decorative purposes as well.
Texture coating can be applied on both internal and external walls such as on weatherboard walls, painted brick surfaces, concrete ceilings, and internal surfaces.
---
What Are The Advantages Of Texture Coating?
Variety Of Finishes - with texture coatings you get numerous options for thicknesses, colours, textures, and styles as per your preference.
Durability - no need to get concerned about cracking, flaking, and peeling when applied with industry standards.
No Cuts - no cut or "V" joins near doors, eaves or windows, leaving a perfect finish.
Protection - a texture coated wall can be protected against knocks, atmosphere pollutants, salt air, water ingress, and dirt accumulation.
Hides Defects - a texture coat provides the option to hide and bridge cracks and other minor building defects while still permitting the wall surface to breathe.
Increase Of Property Value - texture coatings are an inseparable part of Sydney architecture as they add charm and substance to any property in the minimal cost and effort. Most high-end or up-spec home builders will use texture coating for the rendering finish on their homes.
What Are The Disadvantages Of Texture Coating?
Price - adding a texture coat usually ends up costing around 10-20% more than sand and cement render and paint.
Hard To Patch - harder to make "touch ups" if a wall is damaged. So, you either redo the entire wall, or accept the flaw. Although, this can be usually fixed with paint.
---
Where Can Texture Coating Be Applied?
Indoor Walls
Outdoor Walls
Ceilings
Fences
Balustrades
Retaining Walls
And various other surfaces
Our texture coating finish is used as a topcoat requiring an additional base coat to be applied first. A cement rendering or acrylic rendering leveling compound will normally be used as a base coat for brick and blockwork to allow for a more even final texture coat finish.
Once applied and left to cure usually a min of 2 days you can apply a water resistant flexible acrylic membrane coating that will seal the coating and increase its longevity and reduce the risk of cracking. The acrylic membrane coating can be applied by a nap roller, texture roller, brush or spray gun.
---
What Texture Coat Products Do We Use?
For Texture coatings, we choose to use Rockcote Tuscany Trowel On as its specifically formulated to be a highly crack resistant, flexible acrylic texture coating render. It can also withstand daily stress caused by expansion and contraction due to weather changes. Finally, it protects against alkali attack and will prevent shrinking or cracking from rendered substrates.
Find out more about Rockcote Tuscany Trowel On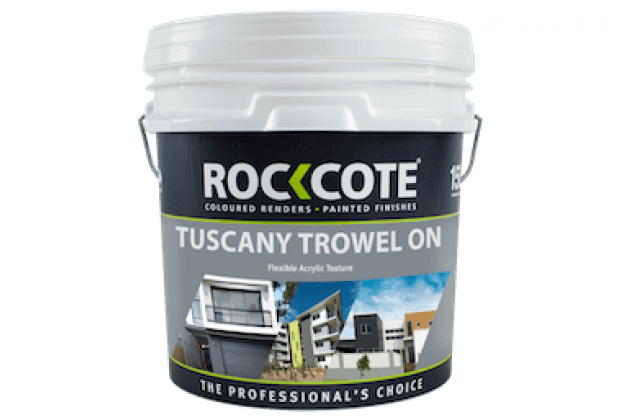 How Much Does Texture Coating Cost In Sydney?
The general cost of texture coating starts at a minimum of $50/m2 and usually stays within the price range of $55/m2. This would mean that a home of at least 300 square meters would cost between $15,000 to $16,500. This is of-course an estimation and the actual cost will be determined on a project by project basis.
There are a number of factors that contribute to the price of a texture coating project including your location, size of your home, and the finishing you choose. Also, different types of projects are priced per linear metre or per day of work so it's best to ask for a quote from Finishing Touch Rendering to get a proper idea of costs for your unique texture coating Sydney project.
---
What Texture Coating Finishes & Designs Do We Provide?
The Finishing Touch Rendering experts can produce many different acrylic rendering finishes by using different tools such as trowels, sponges, or brushes. The variety of finishes available with texture coating requires experienced and licensed renderers like the team at Finishing Touch Rendering who are familiar with the product and style required.
The choice of texture is of course entirely up to you, a coarser texture will hide a slightly rougher substrate, whilst a smooth texture may show the variations in the underlying substrate. We use many different techniques to get your desired finish, including: trowel, brush, roller, and spray gun. You can opt for a sand finish, smooth or any other texture for your walls.
Our highly talented and experienced team members are always working to create a new look to your dream property through our creativity in design, patterns, and finishes as per your requirements. This expertise and dedication has made Finishing Touch Rendering one of Sydney's premium texture coating contractors who are known for our amazing finishes. Get in touch with our experts at Finishing Touch Rendering if your unsure about your desired finish, we'll be happy to advise.
Why Choose Finishing Touch Rendering For Your Texture Coating Sydney Solution?
The expert team at Finishing Touch Rendering will provide you with best texture coating Sydney services. Our team of professionals will meet all your requirements and needs while complying with quality services. We can help with texture coating to fit your budget, adding a personal touch to the look of your property.
Do you have an interior or exterior space that could do with a bit of an aesthetic update? A texture coating not only extends the life of your wall surface when applied correctly, it can also instantly change the look and feel of a work or living space.
A properly applied texture coat from Finishing Touch Rendering will enable your walls to withstand temperature fluctuations and also protect them from UV rays, water, fire & harmful pollutants. We always use high quality products manufactured to achieve a durable, flawless, and visually appealing wall texture.
At Finishing touch Rendering we often surpass customer's expectations while providing texture coating Sydney services due to our commitment to provide premium services at affordable rates.
---
Contact Us For A Free Quote
For the best texture coating services in Sydney, contact the experts at Finishing Touch Rendering. We can provide you with a competitive quote and professional insight into the perfect colour, finish and application for your unique project.
If you would like more information or have any questions regarding our Sydney texture coating service, the friendly team at Finishing Touch Rendering are happy to help!
If you would like a no-obligation free quote, just get in touch with us at Finishing Touch Rendering. Our number is 0421 541 336 and our email is info@ftrendering.com.au You can also fill in the contact us form and we'll get back to you as soon as possible.
Contact Us
Kelly & Doug
Ali applied a light render to three internal brick walls at our house and did an excellent job. His communication was prompt and the quote was well priced. Ali arrived on time, he is friendly and professional and was thorough in his explanation of the process. He did a sample patch first and sought our approval to ensure that we were happy before he proceeded, all in all it was a great experience. Ali was also very respectful that he was working inside our home and kept the work space very clean. We highly recommend Ali and his team and should the need arise for further rendering work, he will be the person we contact. Thank you Ali.
Harry
What a difference, on time, delivered what they promised, gave me their opinion, right price, well experienced staff (No work experience kiddo's) professional and fast, didnt leave a mess, they just understand what needs to be done and they DO IT!!!.. I would certainly recommend Finishing Touch Rendering to everyone. I actually would use them again with confidence. Thanks to Ali and his team my house looks modern and new!! They even cleaned up when they finished without me having to ask. This is the second job they have done for me and I just cant say a bad word about them. I never usually jump online and write feedback about anyone but these boys need to be noticed, they deserve it and we deserve their service!!! SECOND TO NONE! Keep it up boys!
Michael
Ali and his team did a fantastic rendering job at our place. He understood what we were after and had a comprehensive knowledge of the types of different finishes and products available. He worked quickly and efficiently and was a good communicator throughout the job. Ali is professional and meticulous in his work and I would certainly recommend using him.
Rianne
Excellent job!! Ali and his team Cement Rendered our single storey family home in Ryde. Wonderful customer service and great advice on choosing the appropriate render and colour. I will indeed recommend Finishing Touch Rendering everyone!
Rochelle
Ali has done an excellent job rendering our new garage to match the house. I highly recommend this business for the workmanship and customer service. Thanks again and we will be calling you back when we need more rendering done.